Godowns in Tally Prime
---
The company has more than one stock point/Storage location/Godown /Warehouse. In addition, you want to track stock movement in these locations. You can create any number of stock locations/godowns. The godowns/locations option is displayed in inventory info.
---
Godowns Name
---
1. Gateway of Tally->Create->Godown (or)
2. Gateway of Tally->Create->Show inactive->Godown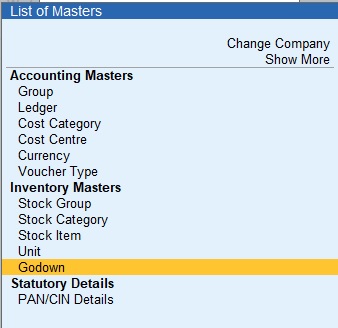 ---
1. Enter the name of Godown.
2. Enter the Godown address
3. Press Enter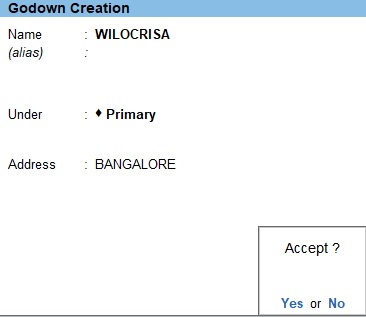 4. You can create to be other Godowns
---
1. Gateway of Tally-> Create->Stock Item
2. Enter the Name of the Stock Item.
3. Enter the Alias name of Stock Item
4. Select the Under will show the List of Groups .
5. Select the Units from List of Units
6. Enter the Quantity for stock item.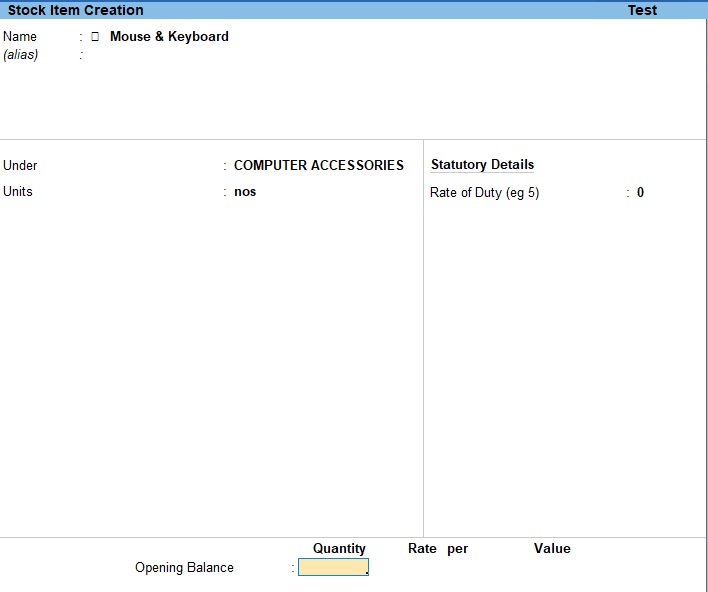 ---
7. Select the godowns name from the list
8. Enter the Quantity
9. Enter the Rate
10. You can enter all godowns
11. Press enter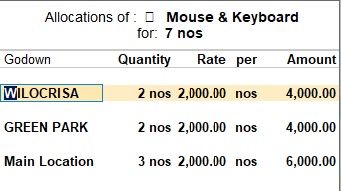 ---
12. The Value field automatically calculates the value by multiplying the Quantity and Rate.
13. Press Enter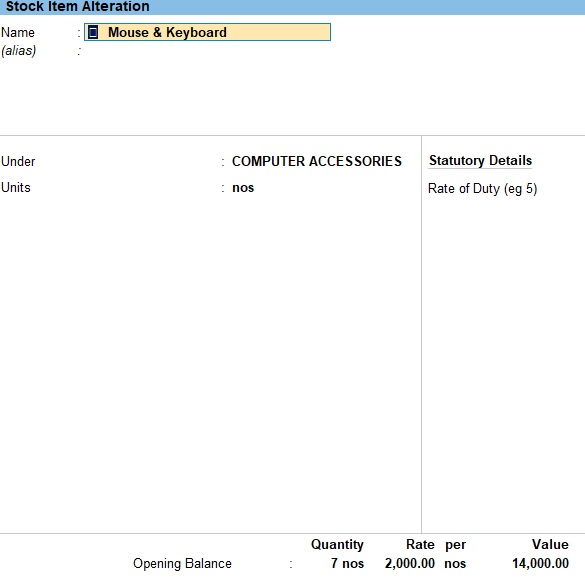 You can create to be other Stocks and Godowns details
---
Purchase in Godowns
---
1. Gateway of Tally->Transaction->Voucher->Purchase(F9)
2. Enter the current date and reference.
3. Enter the Party to be credited click (Alt+c) to Create Ledger
4. Select the Name of Item from the list


---
5. Select the godowns name from the list
6. Enter the Quantity
7. Enter the Rate
8. You can enter all godowns
9. Press enter

---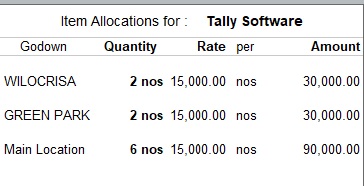 ---

---
Gateway of Tally -> Transaction -> Voucher -> Other Voucher -> Stock Journal(Alt+F7)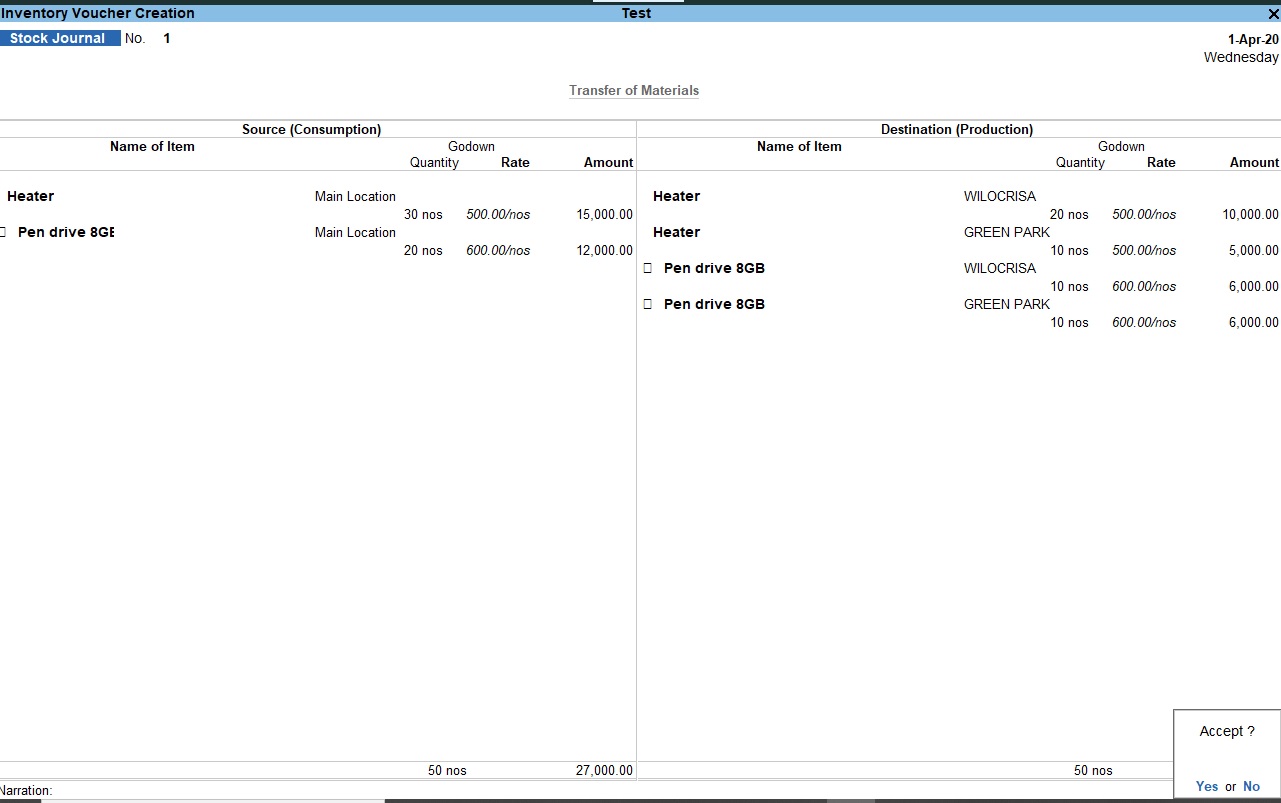 Godowns Sum
---
| Godown Name | Godown Address |
| --- | --- |
| WILOCRISA | BANGALORE |
| GREEN PARK | CHENNAI |
STOCK IN HAND:
COMPUTER ACCESSORIES
Mouse & Keyboard 7nos Rs. 2000 ( W-2 , G-2 , M-3 )
CPU 10nos Rs.13000 ( W-3 , G-2 ,M-5 )
Pen drive 8GB 10nos Rs. 600 ( W-3, G-3, M-4 )
ELECTRONIC ITEM
Iron Box 100nos Rs.750 (W-25 , G-45 , M-30 )
Heater 70nos Rs.500 (W-15 G-15 , M-40 )
Calculator 50nos Rs.500 (W-10, G-15 , M-25 )
TRANSACTIONS:
1. Goods purchased from Mr.Tranced for the following Bill. No.Ag01 Due Days.30
Tally Software 10packs Rs: 15000 (W-2, G-2, M-6)
Ms-Office Software 15packs Rs: 17000 (W-3, G-4, M-8)
2. Goods sold to Mr. Motorola (P) Ltd for the following Bill.No.As05 Due Days: 40
CPU 6nos Rs.17000 (W-1, G-2, M-3)
Mouse & Keyboard Rs.5000 (W-1, G-1, M-2)
Iron Box 90nos Rs.1000 (W-10, G-23, M-15)
Calculator 30nos Rs.1000 (W-7, G- 10, M-13)
3. Amount Paid to Mr.Tranced Bill No: Ag01 Discount Received Rs: 15000
4. Stock transfer from Main Location to wilocrisa and green park
Heater (W-20, G-10)
Pen drive 8GB (W-10, G-10)
1. Apr 01 Purchase order issued to M/s. COMPAQ SYSTEM LTD for the followings

70GB Ram 700nos @ Rs.2000each
50Gb Hard disk drive 500nos @ Rs.3000each
CPU 100nos @ Rs.5000each Order No:CS82
2. Apr08 Stock received from M/s. COMPAQ SYSTEM LTD for the followings
70GB Ram 600nos @ Rs.2000each
50Gb Hard disk drive 450nos @ Rs.3000each
CPU 100nos @ Rs.5000each Against Order No: CS82 bill no: 45 (45days)
3. Apr15 Sales order received from M/s. MORDEN COMPUTERS for the followings
70GB Ram 500nos @ Rs.2500each
50Gb Hard disk drive 450nos @ Rs.3500each
CPU 80nos @ Rs.6000each Order No:MC55
4. Apr 20 Stock issued to M/s. MORDEN COMPUTERS for the followings
70GB Ram 450nos @ Rs.2500each
50Gb Hard disk drive 400nos @ Rs.3500each
CPU 60nos @ Rs.6000each Against Order No: MC55 bill no: 564 (30days)